Camp Combe Updates as of 9/5/2023
Structural Engineers Inspect Car Bridge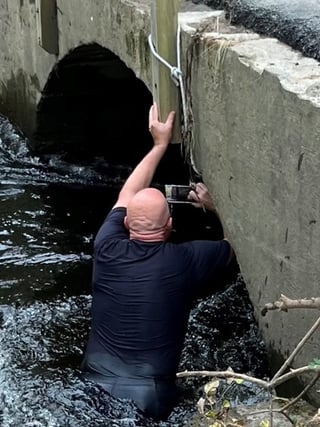 On July 17th, we hosted a structural Engineer to conduct a crucial inspection of the car bridge, which had been completely submerged in water for 24 hours. This inspection marked the initial stride towards our rebuilding efforts, as our progress had been hindered by the inability to transport individuals, vehicles, or materials to the rear section of the camp. Following their meticulous assessment, the engineers determined that the car bridge could accommodate the passage of cars and small trucks. This breakthrough enabled us to initiate the movement of essential materials and personnel to the opposite side, laying the foundation for the commencement of the reconstruction process.
---
NYS Senator Rob Rolison and NYS Assemblyman Matt Slater Visit YMCA Camp Combe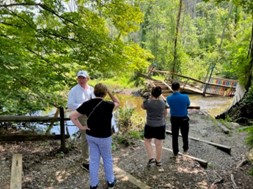 On July 26th, we hosted our elected leaders at YMCA Camp Combe with a specific goal. Their visit was to provide our legislators with a firsthand understanding of the recent storm's impact on their constituents. Demonstrating the destruction directly to them was crucial in conveying the urgency of our community's rebuilding efforts and the need for funding. It's not just the town of Putnam Valley that falls within their jurisdiction, but also the surrounding community of campers, many of whom are represented by the Senator and Assemblyman. This visit provided a valuable opportunity to illustrate the challenges of cleanup and rebuilding this summer in the storm's aftermath. By doing so, we aimed to underscore the significance of our mission to rebuild and improve, particularly in anticipation of serving families in the upcoming year, 2024. Both agreed to help us identify government funding sources for reconstruction expenses. The support extended by these elected officials holds immense importance. It will catalyze our collaboration with state and town entities, facilitating a concerted push toward rebuilding during this off-season.
---
Putnam Valley Building Inspector Visits YMCA Camp Combe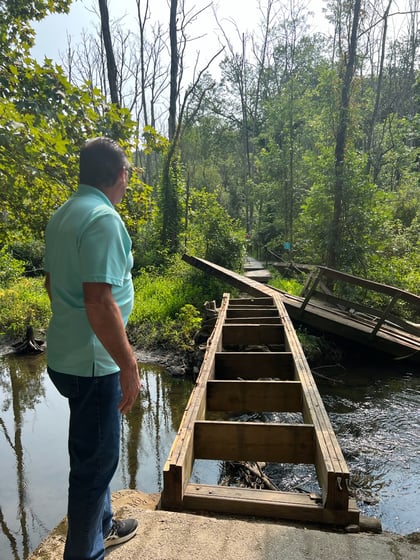 On August 3rd, a significant visit occurred as Putnam Valley's Building Inspector, Rich Quaglietta, arrived at the camp premises for the first time since the storm. Given his comprehensive understanding of the extensive damage witnessed across Putnam Valley, Rich is pivotal in determining the optimal approach to restoring camp operations. His expertise is crucial in devising a successful strategy for the camp's revival. During his visit, Rich conducted a thorough inspection of both our bridges and buildings. His assessment provided valuable insights that will guide our rebuilding efforts. Rich's involvement extends beyond mere advice; he has connected us with local businesses familiar with our property who understand the damage incurred. These connections are set to play a pivotal role in our reconstruction partnership.